Your destination for Polka and Old Time Music
Welcome Guest! Would you like to log yourself in?
Welcome to our website!
Thank you to everyone who has logged in and ordered music. It is much appreciated!
We continue to get new music in. If you're looking for something and can't find it, don't hesitate to call. Our pay pal processor is back and working for those wishing to pay with their paypal account.
Exciting news
We now carry the "Wolf Concertina Instruction Book" With this easy to follow manual, it is possible to teach yourself to play the Concertina. Cory Miller and his Miller Tyme CD is available once again and we're proud to have it available on our website. This CD with 23 awesome selections on is a "must have" to add to your collection.
Also, new music includes The Mark Leichey Orchestra with Vol.5, "Keep On Smiling", another great CD to add to your collection.
Besides the Whoopee John Collection of 29 CDs now displayed and we have a large inventory of these on hand, we've now added some 2 CD sets of Whoopee John. We also have two 2-CD sets now available by Elmer Scheid as well as Dick Rogers.
We also have a large selection of 50's, 60's, gospel, folk, and classic country. If there is anything we can help you find please let us know.
Tune In
I host a segment during my radio program on Sunday mornings on KASM 1150 AM radio called "Musicians Come & Play" at approximately 11:45 AM. My first guest on February 3rd, 2013 was Wally Pikal. Many more great guests have followed. During this 15 minute program, I visit with a music personality about their band. It's interesting, entertaining, and downright fun. Then at 12:00 noon, we feature the music of that band for about 30 minutes on segment called "Musical Treat For Dancing Feet". So, tune in to 1150 AM, KASM or on the web at www.mykasm.com and then click on "on line stream music".
Thank you!
Cy Pfannenstein
(toll free 1-877-479-5269)
Featured Products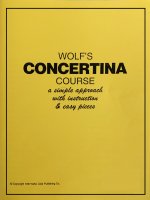 Wolf's Concertina Course
$25.00